Peterborough playhouse removed after sex attack verdicts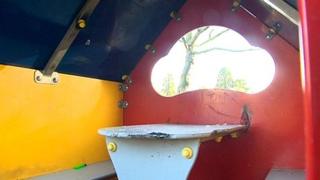 A playhouse in a Peterborough park that was used as a place where a gang abused children has been removed by the city council.
Two men and three teenage boys were found guilty of a series of rapes and sexual assaults on 13 and 14-year-old girls earlier this month.
The Old Bailey heard the Central Park playhouse was a key place of abuse.
It said it had been removed because it would have been "inappropriate for it to remain".
The group will be sentenced next month.
Zdeno Mirga, 18, Hassan Abdulla, 33, and three boys, who cannot be named, were convicted on 15 January in what the Crown Prosecution Service said was one of the "worst cases" of child sex abuse it had seen.
Mirga's brother Dusan, 20, David Ziga, 19, and another teenager were cleared.
One of the group's victims, referred to in court as Victim A, was a 13-year-old girl with a severe learning disability.
The council said it had not yet made a decision about what would replace the playhouse.