CCTV shows Joanna Dennehy 'accomplices' buying fuel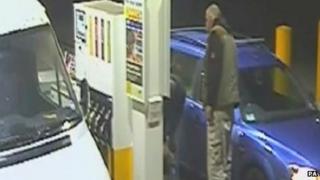 Footage of triple killer Joanna Dennehy and her alleged accomplices buying fuel to destroy potential evidence has been shown to jurors.
Dennehy, 31, has admitted stabbing three men and dumping their bodies in ditches in Cambridgeshire last year.
One of the cars driven by Dennehy and two other men was found burnt out and one of her victims was found doused in fuel, the court has previously heard.
Two men are on trial at Cambridge Crown Court, where they deny related charges.
Lukasz Slaboszewski, 31, John Chapman, 56, and Kevin Lee, 48, were found dumped in ditches near Peterborough in March and April.
Gary Stretch, real name Gary Richards, 47, of Riseholme, Orton Goldhay, Peterborough, denies preventing the lawful burial of all three men and two counts of attempted murder in relation to attacks in Hereford.
Accelerant
Leslie Layton, 36, of Bifield, Orton Goldhay, denies perverting the course of justice and preventing the lawful burial of the bodies of Mr Chapman and Mr Lee.
CCTV footage from 29 March was played in court which showed Mr Layton pulling up at a Shell garage near Peterborough in a Ford Mondeo before filling the canister.
Mr Stretch was seen getting out of a Vauxhall Astra before paying at the counter, while Dennehy remained in the Astra.
The Mondeo was found burnt out on wasteland at Yaxley near Peterborough later that day, the prosecution said.
The next day, Mr Lee's body was found in a ditch near Newborough, clothed in a black sequin dress with five "stab cuts".
A post-mortem examination found he had been covered with some kind of fuel or accelerant, but there was no evidence of any attempt to set fire to him.
Psychiatric disorders
The court was also told that Dennehy had been admitted to a psychiatric ward at Peterborough City Hospital, between 18 and 21 February 2012.
Andrew Jackson, prosecuting counsel, said she had been diagnosed with personality and obsessive compulsive disorders.
Dennehy has also admitted the attempted murders of two men in Hereford after killing the three men in Cambridgeshire.
A third man, Robert Moore, 55, of Belvoir Way, Peterborough has already pleaded guilty to assisting an offender and is awaiting sentence along with Dennehy.
The trial of Mr Stretch and Mr Layton continues.