Cambridgeshire dog walkers patrol neighbourhood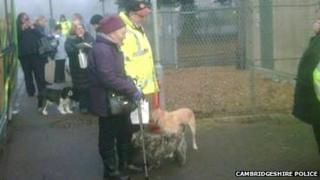 Dog owners are being recruited for a neighbourhood watch scheme in Cambridgeshire called Paws on Patrol.
Cambridgeshire Police hopes the dog walkers will become its "eyes and ears" while they exercise their pets in the Fenland town of March.
Neighbourhood watch organiser Gwyneth Parker said she would expect recruits to focus on reporting vandalism and anti-social behaviour.
Police said 32 dog walkers have been recruited so far.
Mrs Parker said they were "not going to snoop" but instead "report anything that is suspicious".
The first recruitment session was held at West End Park.
Officers gave the advice on what to look out for and information on who to call if they have concerns.
Cambridgeshire Police said the patrols are not intended to replace officers but are instead "another form of neighbourhood watch".
PCSO Rachael Cheverton said: "Dog walkers spend a lot of time in their communities at different times of the day and evening so are very likely to spot when something out of the ordinary is happening."
She added that it was "not about people stepping in and taking action themselves" but about providing the police with information.
Police said if the scheme in March is a success it would be extended to other towns in the county.