Dr Daniel Ubani sues Cambridgeshire victim's son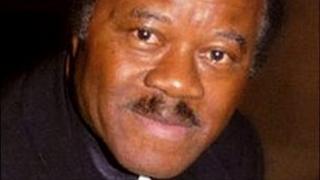 A doctor who killed a Cambridgeshire man with a lethal dose of diamorphine is suing his victim's son over remarks made at a conference.
German Dr Daniel Ubani injected 10 times the safe dose into David Gray, 70, during a locum shift in 2008.
Mr Gray's sons want Dr Ubani, who was given a nine-month suspended sentence for death by negligence, struck off in Germany.
Dr Ubani has lodged a claim for 3,398 euros (£2,806) against Rory Gray.
Mr Gray's sons Stuart, a GP from Kidderminster, Worcestershire, and Rory, who lives in Germany, campaigned to get the doctor struck off the Doctors Chamber, the country's equivalent of the General Medical Council in the UK.
They confronted Dr Ubani at a medical conference in Bavaria, asking him for an explanation for their father's death.
During the confrontation, Rory Gray is alleged to have called Dr Ubani "an animal".
Mr Gray claims the comment was made quietly to his brother and no one else at the conference could have heard it.
In his claim lodged at Lindau District Court in Bavaria, Dr Ubani is suing Mr Gray for loss of a professional fee.
The doctor is alleging that as a result of the confrontation by the brothers, he was forced to leave the conference and forgo his speaking fee and dinner.
He is claiming 1,148 euros (£948) for loss of his speaking fee and dinner and 2,250 euros (£1,858) for legal costs.
He also wants Mr Gray to sign a letter saying he will not in the future use the words "he is an animal".
Mr Gray has until 25 January to respond to the claim.
The doctor had been working for an out-of-hours medical service when he gave Mr Gray, of Manea, the fatal injection.
In 2011, Dr Ubani lost his Munich High Court appeal to stop Mr Gray's sons describing him as a "charlatan".
The German medical authorities fined Dr Ubani 7,000 euros (£6,275) in 2011 for breaking its professional code of conduct in relation to Mr Gray's death.