Peterborough murders: Warning Joanna Dennehy 'would kill'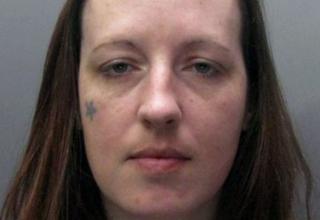 A friend of triple killer Joanna Dennehy warned she might murder a man who was later found dead in a black dress, a court has heard.
Dennehy, 31, admits stabbing three men in the heart and dumping their bodies in ditches in Cambridgeshire.
Gary Stretch and Leslie Layton are accused of helping her dispose of the bodies and cover up the killings.
Mr Stretch's housemate Carla White told Cambridge Crown Court he had warned her Dennehy could kill.
She said Dennehy - also known as 'Star' because of her facial tattoo - had seemed "rude and arrogant" and had once grabbed her around the throat.
Ms White recalled a conversation with Mr Stretch in the days leading up to Good Friday, when Dennehy's final victim, Kevin Lee, was killed.
Mr Lee was found dressed in a black sequin dress with his buttocks exposed.
She said: "He said Mr Lee hadn't paid Dennehy for work she had done on the house and she was getting stressed and he was harassing her.
"He said 'she will kill him'.
"I said 'don't be silly, she would not do anything like that'.
"He said 'believe me, she would, she will... kill him'."
Ms White added that Mr Stretch, who is 7ft 3in, was a "gentle giant" but would not do anything he did not want to.
The bodies of Lukasz Slaboszewski, 31, John Chapman, 56, and Mr Lee, 48, were found dumped in ditches in March and April last year.
Police believe Slaboszewski was killed around March 19 while the final two victims were killed on March 29.
Dennehy, of Orton Goldhay, Peterborough, admitted the murders at the Old Bailey in November.
She also pleaded guilty to preventing the lawful and decent burial of all three victims, and two charges of attempting to murder two strangers, Robin Bereza and John Rogers.
Mr Stretch, real name Gary Richards, of Riseholme, Orton Goldhay, denies three counts of preventing the lawful burial of all three men and two counts of attempted murder.
Mr Layton, of Bifield, Orton Goldhay, denies perverting the course of justice and two counts of preventing the lawful burial of the bodies of Mr Chapman and Mr Lee.
A third man, Robert Moore, 55, of Belvoir Way, Peterborough, has admitted assisting an offender and is awaiting sentence.