Wood Green Animal Shelter bans rescue dog 'sightseers'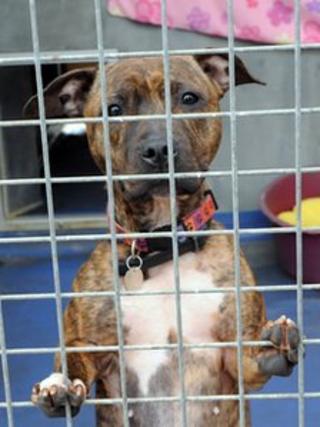 An animal charity has banned people from viewing its dogs unless they are "genuinely looking" for a pet to reduce stress on the animals.
Wood Green Animal Shelter in Cambridgeshire will shut its kennels to the general public from 20 January.
A spokeswoman said the "constant stream of strangers" viewing the dogs was causing the animals "stress".
Research carried out by the charity last summer revealed only 15% of visitors intended to adopt a dog.
'Hiding and panting'
Linda Cantle, head of animal welfare at the Godmanchester rescue, said: "We understand that some people will be disappointed by not being able to visit the dogs, however our animals' welfare is always our overriding priority."
"Various studies worldwide have shown that a constant stream of strangers viewing dogs is extremely stressful for them, leading to excessive barking, hiding and panting," she added.
"We have introduced a number of techniques to reduce the negative effect, but we are still seeing a deterioration of behaviour and health in the dogs in our care on a daily basis."
People wishing to visit the dogs will now have to meet with a member of staff to discuss the rehoming process before being able to view the animals, Ms Cantle said.