Una Crown murder: Fresh appeal in Wisbech one year on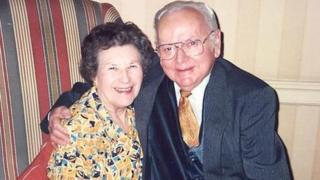 Officers investigating the murder of an 86-year-old widow in Cambridgeshire hope the one-year anniversary of her death will "trigger" fresh information.
Una Crown was found stabbed and burned at her bungalow in Magazine Lane, Wisbech on 13 January 2013.
No-one has been charged with her murder.
Officers will spend the weekend and Monday putting up posters and talking to people who may have been in the area at the time of Mrs Crown's murder.
Det Ch Insp Jon Hutchinson, leading the investigation for Cambridgeshire Police, said: "I'm hoping the one-year anniversary will act as a trigger for people to come forward.
"We know the passage of time does change allegiances, and we're hoping that people who this time last year didn't feel comfortable coming to us, will now come forward and speak."
Stolen wedding ring
Mrs Crown was last seen alive on Friday 11 January, but had spoken to a friend by telephone at about 17:00 GMT the following day.
Police believe she was murdered some time before 21:00 GMT.
Mr Hutchinson said: "This is still a very active investigation and we have a dedicated team working on solving this horrific murder of an elderly woman in her own home.
"We are determined to get justice for Mrs Crown and her family.
"However, we still believe the answer to this crime lies in the local community and we need their help," he added.
"I would urge people to think back to this time a year ago. Did a friend or loved one come home with blood on them or smelling of smoke? Were they acting strangely around that time or did they suddenly come into money?"
Mrs Crown's wedding ring and her front door key have not yet been recovered.