Una Crown murder: Family 'let down' by investigation delay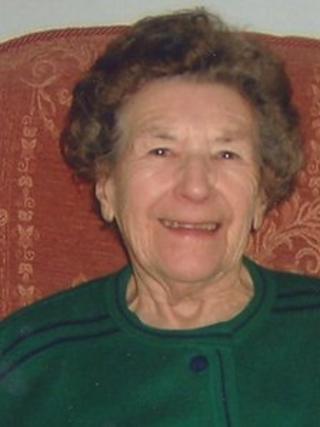 Police investigating the murder of a Cambridgeshire woman a year ago admit they "may not have been as quick off the mark as we should have been".
The body of Una Crown, 86, was found stabbed and burned at her Magazine Lane home in Wisbech on 13 January 2012.
Her family has said they feel "let down" and said clues may have been lost after the death was treated as "accidental" by police for two days.
No-one has been charged with Mrs Crown's murder.
Her body was discovered in the hallway of her bungalow by her niece's husband, John Payne, when he went to collect her for a day out on the morning of Sunday 13 January.
Stabbed repeatedly
Later that afternoon, Mr Payne and his wife Judy - Mrs Crown's niece - were told by police the death was accidental and they could return to the house to sort through her belongings.
"I was surprised when the police said it was an accident," Mr Payne said.
"After a few days the point was proved."
It was not until Tuesday afternoon that police called and asked them to leave the property.
"We got home and within half an hour the police arrived and told us it was a homicide," Mr Payne said.
The official murder investigation began on 16 January, following a post-mortem examination which concluded Mrs Crown had been stabbed repeatedly, including through the heart and lungs.
Her body had then been set alight in what police believe was an attempt to cover up the murder.
Mrs and Mrs Payne have criticised the time it took police to realise Mrs Crown had been murdered.
Mrs Payne said they complained to the Independent Police Complaints Commission (IPCC) because "we felt very let down", however, Cambridgeshire Police confirmed the matter was "locally resolved and the family are happy with the outcome".
'Bring closure'
Det Ch Insp Jon Hutchinson, leading the murder investigation, said: "There was a problem with the first two days in that the officers that attended were under the impression this was a tragic accident."
The offender had been "quite skilled" in giving that impression, he said.
"Officers... made the assumption that it was a non-suspicious death.
"There is always the potential, as a result of that, we may not have been as quick off the mark as we should have been."
Mrs Crown was last seen alive on Friday 11 January, but had spoken to a friend by telephone at about 17:00 GMT the following day.
Police believe she was murdered some time before 21:00 GMT.
One year on, "a team remains working on this", Mr Hutchinson said.
"We are absolutely determined that we will do everything to bring the offender to justice... and to bring closure to Una's family."