Peterborough sex attacks: Two men and three teens guilty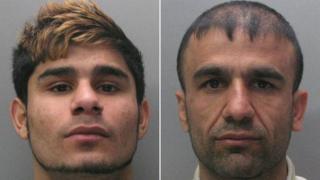 Two men and three teenage boys have been found guilty of a series of rapes and sexual assaults on young girls.
Zdeno Mirga, 18, Hassan Abdulla, 33, and three boys were convicted at the Old Bailey. The Crown Prosecution Service said it was one of the "worst cases" of child sex abuse it had seen.
The group targeted five girls aged 13 and 14 in Peterborough. They are due to be sentenced on 20 February.
Mirga's brother Dusan, 20, David Ziga, 19, and another teenager were cleared.
One of the group's victims, referred to in court as Victim A, was a 13-year-old girl with a severe learning disability.
'Power over her'
The gang congregated at a fried chicken takeaway in Peterborough and carried out their attacks at locations including a children's playground, using what police described as "sophisticated" tactics to groom their victims.
After a trial lasting two-and-a-half months, the five were convicted of a total of 18 counts of rape, one of causing or inciting child prostitution, one of engaging in sexual activity with a child, three of causing or inciting a child to engage in sexual activity and three of sexual assault.
Judge John Bevan QC said: "Because some of the defendants do not speak good enough English, despite having lived here a long time, three interpreters have worked full time during this case, at a cost of over £30,000."
He told the jury: "You have sat diligently and paid the closest of attention for weeks on end.
"It has been transparently obvious that you have been working very hard."
He excused them from further jury service for the next 15 years.
Victim A described Zdeno Mirga, known as "Skinny", as the gang's boss, prosecutor Angela Rafferty said.
"He encouraged her, often very forcefully indeed, to give others... sex.
"He did this using the power he had over her at the time, or threatened her and sometimes he used violence against her.
"Skinny took her to parties where she was shared around sexually."
The girl told police that Mirga "shared" her because he wanted money to buy cannabis and vodka, the court heard.
'Horrific ordeals'
After the verdicts, Det Supt Gary Ridgway, who led the inquiry, said the convictions were part of an ongoing "victim-led" joint investigation between Cambridgeshire Police and Peterborough City Council.
Officers and social workers are working to identify young people they believe are at risk of harm before any allegations are even made.
Girls can then identify people who were exploiting them, he said.
Speaking about this case, Det Supt Gary Ridgway said: "These girls were targeted simply because they were vulnerable.
"They were seen as easy targets and exploited by this group of teenage boys and men who abused them for their own sexual gratification."
He said the girls were subjected to "horrific" ordeals.
"But they have shown incredible strength throughout this process, in particular by giving evidence at court in order to bring these people to justice," he said.
"We are committed to helping those girls pick up the pieces and move on with their lives."
'Preying on children'
Gillian Beasley, chief executive of Peterborough City Council, said: "Listening to the catalogue of crimes committed against these children has been absolutely devastating and we wish they could have been rescued sooner.
"But it was not until our social workers and the police gained the trust of the victims, so they felt able to tell us the full extent of what was happening, that the police were able to arrest the criminals who were responsible.
"We are pleased that we have seen justice done today. We would also like to pay tribute to the victims. Without their courage to stand up in court we could never have secured these convictions."
She said the council had also started a serious case review.
"We will be working closely with that review and we look forward to the findings," she said.