Imperial War Museum Duxford reopens after wind damage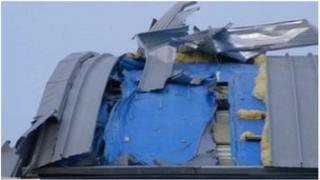 A museum forced to close after high winds damaged the roof of one of its exhibition halls has reopened to the public in Cambridgeshire.
Imperial War Museum Duxford was closed for safety reasons on 30 December.
Strong winds tore part of the roof off the AirSpace hangar and continuing "adverse conditions" hampered repairs.
"Damage to buildings, caused by the recent high winds, has now been made safe and the museum is fully open to the public again," a spokeswoman said.