Cambridgeshire illegal gangmasters' businesses closed down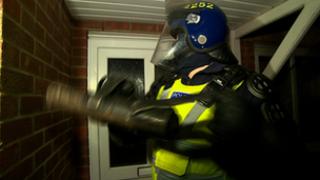 Two brothers have had their recruitment business licences revoked following an investigation into the exploitation of migrant workers in Cambridgeshire.
The Gangmasters Licensing Authority (GLA) found Martyn Slender had falsified payslips at his March-based company Slender Contracting Ltd.
His brother Mark Slender was found to be "not a fit and proper person" to run his company, MAS Recruitment.
Neither chose to lodge an appeal against the GLA's decision.
In October, 300 police officers took part in raids across Cambridgeshire linked to suspected exploitation of migrant workers.
More than 80 workers from Latvia, Lithuania, Russia and Estonia, who were thought to be subjected to exploitation, were removed from addresses in the area.
The licences of both gangmasters' companies were temporarily suspended at that time, pending a full inquiry.
The GLA found Martyn Slender had falsified records in order to underpay employees, had not agreed terms or conditions of their employment and failed to provide his workers with appropriate protective equipment.
He was also deemed "unfit" to run the business.
Both brothers are now banned from operating their recruitment companies in the GLA's regulated sector, which includes agriculture, food processing, packaging and horticulture.