Peterborough child rapist Brett Deane jailed for 13 years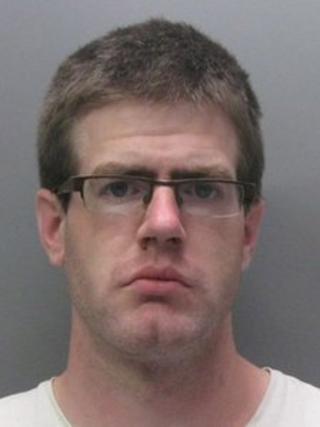 A man who filmed himself raping a four-year-old girl during a "horrific attack", and later shared the video online, has been jailed.
Brett Deane, 28, of Welland Road, in Peterborough, pleaded guilty to 10 charges including two of raping a girl under 13.
He was jailed for 13 years when he appeared at Peterborough Crown Court on Tuesday.
Det Sgt Amerjit Singh said the victim was likely to be "haunted for years".
Cambridgeshire Police began investigating Deane in September after they were alerted to the video and other images posted on the internet.
When they searched his home they also found explicit drawings of a man raping two children, labelled on the images as being aged 11 and 12.
Deane was charged with 10 counts including two of rape, four of serious sexual assault of a girl under 13 and a further four of taking, making, possessing and distributing an indecent photograph of a child.
Mr Singh, of the force's public protection department, said: "It is almost impossible to comprehend such an horrific act of attacking a young child who had no way of defending herself.
"Deane did not give a moment's thought to what impact his actions will have on such a young victim who will, no doubt, be haunted by this abuse for many years to come."