Tour de France in Cambridgeshire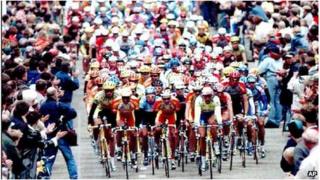 A cycling festival is to be held to celebrate the third stage of the 2014 Tour de France, due to take place in Cambridgeshire later in the year.
The 7 July stage begins on Gonville Place in Cambridge and takes riders past King's College and villages south of the city.
The Velo Festival will consist of a series of activities to showcase the importance of cycling in the county.
Local groups and clubs have been invited to put forward ideas.
Tour 'an honour'
The festival already includes events such as a bike ballet and cycling roadshows in market towns.
Councillor Noel Kavanagh, cycling champion for Cambridgeshire County Council, said: "We know for a lasting legacy to be created from the Tour de France we must look beyond the confines of the city to include people from across Cambridgeshire.
"Holding a stage of the Tour de France is an honour for us all and we must ensure it lives long in all our memories."
After starting out near Parker's Piece in the centre of Cambridge, the peloton will ride through Regent Street and Sidney Street and past St Johns, Trinity and King's colleges before leaving Cambridge via Trumpington Road.
Riders will then travel along the A1301 through a number of villages including Trumpington, Great Shelford and Hinxton.
The race enters Essex near Saffron Walden, taking in Chelmsford and Epping Forest before heading to London.
The UK part of the race starts in Leeds on 5 July and ends in London on 7 July.