'Peterborough sex gang' Old Bailey jury retires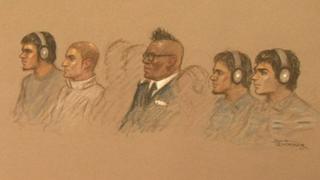 The jury in the trial of four men and four teenage boys accused of the sexual abuse of five girls in Peterborough has retired to consider its verdict.
The eight accused have denied a total of 46 counts of abuse, including rape of the girls, aged between 13 and 14.
The alleged abuse happened between April 2012 and May last year.
Judge John Bevan told the jury at the Old Bailey they should "strive" for a unanimous verdict on each individual count.
The defendants Zdeno Mirga, 18, his brother Dusan, 20; Hassan Abdulla, 32; David Ziga, 19, two 17-year-old boys and two 14-year-old boys are all from Peterborough.
The trial, which began on 4 November, centres on a 13-year-old girl who said she was raped in parks in Peterborough.
The allegations emerged when she was taken into care.