Addenbrooke's Hospital new smoking ban 'will work'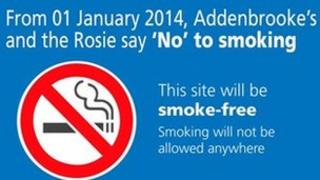 A Cambridge hospital's second attempt to ban smoking across its entire site "will work" this time but will be enforced in a "non-Draconian manner", its chief executive said.
The ban at Addenbrooke's came into force on Wednesday. A previous ban was lifted in 2009 after people ignored it.
Dr Keith McNeil said extra staff would "politely and respectfully" enforce it.
He said he understood stressed people might want to smoke and added: "We'll have to take each case as it comes."
Dr McNeil, himself a heart and lung transplant physician and respiratory medicine specialist, said the proposal had been discussed with patient groups, staff and visitors.
"We've got consensus that this is the right thing to do and the resource to back it up," he said.
"We will have more monitoring... but we are not taking a Draconian approach to this. We're asking people to respect our views on what the campus should be, which is about promoting health."
He said people could "walk a short distance off-site to smoke if they really need to".
He added: "I am confident it will work."
Pro-smokers' rights groups have previously criticised the plan saying while it was reasonable to expect people not to smoke near hospital entrances, they were concerned smokers might be forced into unlit areas late at night.