Peterborough railway station closed to complete £43m upgrade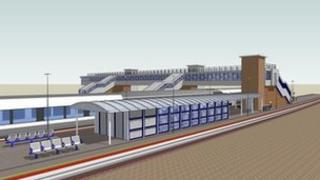 Peterborough railway station will be closed for three days to allow work on a £43m upgrade to be completed.
It will close after the final train passes through on Christmas Eve and reopen on 28 December.
Replacement bus services are in place but passengers have been advised to check with train operators before setting out.
Improvements to the station include new platforms, bridges and longer trains for commuters.
Peter Williams, from operator East Coast, said: "The work has been timed for two days when trains aren't running, plus a third day when experience shows fewer people travel compared with a normal weekday.
"We appreciate any short-term disruption to travel plans isn't welcome, but the work on Friday 27 December will help to build a bigger and better railway."
Network Rail said the work was commissioned as Peterborough was "a strategic transport hub" catering for more than four million passengers a year.