Christmas Lego family complete gingerbread model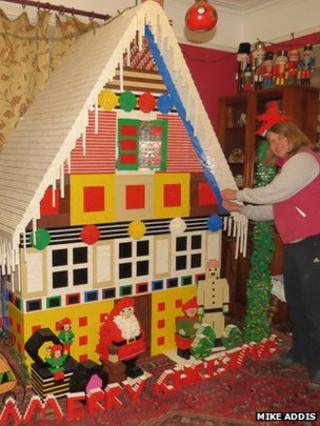 After weeks of painstakingly slotting together 125,000 bricks, a Lego-mad Cambridgeshire family have completed their latest festive decoration.
Mike Addis and Catherine Weightman's 10ft-tall (3m) Lego gingerbread house took months to complete and will take two weeks to demolish in the new year.
The couple are so proud of their annual creations they send friends a Christmas card featuring the latest model.
They hold a party after Christmas where friends help dismantle the structures.
Mr Addis and Ms Weightman, from Huntingdon, both enjoyed Lego as children and made their first Christmas model when eldest son Tom, now 21, was a baby.
'Utterly embarrassed'
In the past they have built a Dalek, an Olympic mascot and replica churches.
When their three children were younger, Tom, Holly, 18, and Christopher, 15, used to join in the annual Lego-building tradition, and gladly featured on the family's Christmas card.
However, the couple have had to admit it is now more of a hobby for them - and increasingly an embarrassment for their offspring.
"Holly simply will have nothing to do with it, although we persuaded her to complete a token line of the Christmas tree next to the gingerbread house," Mr Addis said.
"Christopher has done a bit more, but it's usually under duress. We tell him it's either a line of Lego or something that's less palatable to him - so he chooses the Lego."
This year, the family Christmas card features Christopher with older brother Tom "who just happened to be home, so we made him stand there", but no Holly.
"She point-blank refused and won't even tell her university friends about our Lego, because she is utterly embarrassed," Mr Addis added.
The Lego centrepiece takes pride of place in the living room until 6 January when the couple begin the two-week dismantling process.
The annual "breaking-down party" is held after that and friends are given food and drink in return for helping.
Finally, the Lego bricks are consigned to the many storage boxes which have taken over the family home, until inspiration hits and the couple begin work on their next Christmas creation.