Landbeach 'pirate island' consultation begins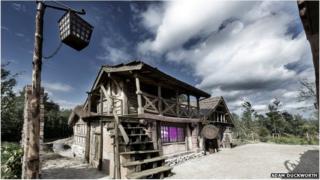 A consultation has begun into a new planning application for a "pirate island" which has already been built in the middle of a lake in Cambridgeshire.
The Dickerson family had the island created at a former quarry at Landbeach.
Pirate-style buildings were put up without council approval, so retrospective planning permission is being sought.
A previous application was withdrawn and amended to include trees.
The island includes five wooden buildings, including a "mock" pirate tavern.
South Cambridgeshire District Council said people can submit their views as part of the consultation which runs until 10 January.
The council was also seeking more information about how the island was created by Kettering-based company The Master Wishmakers using material dredged from the lake.