Peterborough burglar took grandchildren's Christmas presents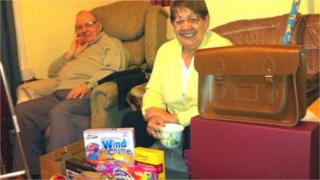 Despair has turned to joy for a couple in Peterborough after Christmas presents for their grandchildren were stolen in a burglary.
An intruder got into the home of Evelyn and Mick Beaver in Orton Malborne between 07:45 and 08:40 GMT on Sunday.
The couple, aged 80 and 81, had saved for months to buy the presents.
A BBC Cambridgeshire appeal resulted in local people and businesses sending a sack of new presents including toys, satchels, hampers, games and money.
The couple were overjoyed and thanked everyone, and they are now busy wrapping presents and buying new ones with the cash.
Police believe an intruder walked in through a door and snatched the presents while disabled Mr Beaver was upstairs.
Thank everyone
The gifts included personalised towels, pyjamas, men's and women's fragrances and a watch.
A walnut box containing personal documents, described as a family heirloom, was also stolen.
Mrs Beaver said: "I was gutted over the theft. It's a hard thing to get over. Christmas was gone for us. There was nothing to celebrate.
"But I never thought this would happen. So many people giving us things."
Mr Beaver said: "I want to thank everyone for all they've done for us.
"I hope they have as good a Christmas as we're going to have with our grandchildren."