Peterborough Prison miscarriage clean up claim investigated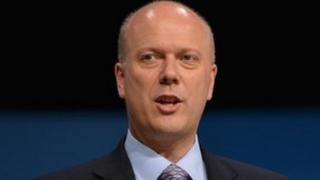 Allegations a woman who suffered a miscarriage in prison was forced to clean up after herself are to be investigated by the government, Justice Secretary Chris Grayling has said.
Nadine Wright, 37, lost her baby at the privately managed Peterborough Prison.
Leicester Crown Court heard she was left to clean up after herself while the foetus remained in her cell.
Mr Grayling told the House of Commons that if the claim was true it was "wholly unacceptable".
The court was also told appropriate healthcare was not provided to Ms Wright, of Newbold Verdon, Leicestershire, for a further three days.
'No pain relief'
Shadow justice minister Jenny Chapman raised the issue in parliament.
She said: "You will be aware that, last week in court, it was reported that a woman at a Sodexo-run prison miscarried, the first night in her cell.
"She informed healthcare workers, she was not given any assistance, she was made to clean up on her own. She received no assistance for three days, no pain relief."
Mr Grayling said the Department of Justice would be seeking explanations from private firm Sodexo Justice Services, which manages the prison.
He told the Commons: "Let's be absolutely clear - that if what has been described is true, it is and would be wholly unacceptable.
"My team will clearly be following this up with Sodexo.
"Sodexo themselves will want to address this issue because nobody would seek to defend it."
A Sodexo Justice Services spokesperson said: "We do not recognise the version of events which have been stated recently regarding this incident."