Burwell Mill's sails restored after 40 years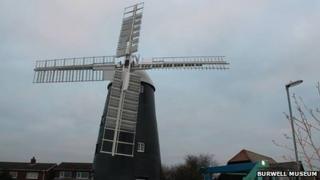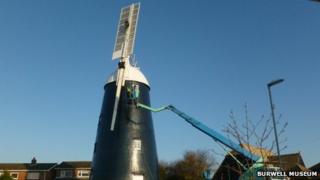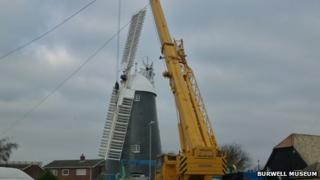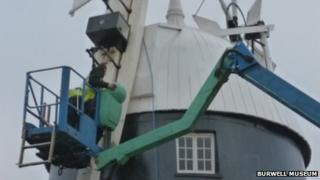 A Cambridgeshire windmill missing two of its sails for the past 40 years is to be restored to full working order after new ones were lifted into place.
A 65-tonne crane was used to put four new sails onto Burwell Windmill, an early 18th Century mill which last worked commercially in the 1950s.
The mill received £420,000 from the Heritage Lottery Fund and others for the restoration project.
It is hoped it will be returned to full working condition by spring.
The mill, officially called Stevens' Mill, was built in about 1820 and last had a full complement of four sails in 1973.
Two sails were restored in 1988 leaving the mill, which is part of Burwell Museum, working at 60% of its milling capacity.
A lottery grant enabled the museum to employ Lincolnshire-based Traditional Millwrights Ltd to completely refurbish two sails and build two new ones.
The sails, which span 64 ft (19.5m), had to be lifted more than 100 ft (30.5m) by the crane before being dropped into place.
A museum spokesman said the restoration would enable more visitors to experience the traditional art of milling when the building reopens next year.