A1 closed as flaming clothes from lorry fire cover carriageway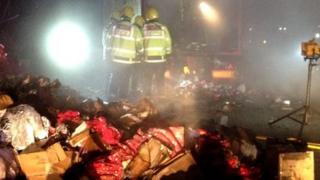 A lorry carrying pallets of clothing caught fire in Cambridgeshire, partially closing a road during rush hour.
Motorists were held up for several hours while firefighters tackled the blaze on the A1 northbound near Wansford at about 06:30 GMT.
The fire appeared to have started in the trailer and destroyed clothing on wooden pallets.
No-one was injured and the road was fully reopened shortly after 12:00 GMT.