North Bank river crash survivor supports barrier campaign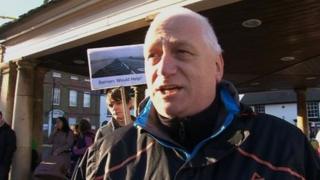 A passenger who nearly drowned when a car veered into a river has described his dramatic rescue and called for crash barriers to be installed.
Neil Pridmore, 56, was a passenger in a Kia Picanto which plunged off the road into the water at North Bank in Whittlesey, near Peterborough.
The speed limit on the stretch of road has been temporarily cut to 40mph after two deaths since 3 November.
Peterborough City Council said it was investigating "any road safety issues".
Mr Pridmore said: "A barrier would keep you on the riverbank and give you hours to be rescued, whereas I had 30 seconds."
'Last breath'
Mr Pridmore said his wife Yvette, 55, had slowed the car to "about 45mph" before it left the road on 27 November.
"The back end of [the] car just zipped straight away and we did a 180 degree pirouette," said Mr Pridmore, a manufacturing specialist.
"I remember starting the roll and thinking this is going to hurt and I think I was knocked out at that point.
"The next thing I remember it was soaking wet and I could not find the door handle. I thought I was taking my last breath."
The passengers included his 10-year-old granddaughter, Abigail, and stepson, David Rowell, 27.
The car landed upside down in the river.
Mr Pridmore, from Ladysmith Avenue, Whittlesey, said: "My granddaughter was trapped by her seat belt, but she'd found an air pocket somehow and she was in the back screaming, 'Get my granddad, he's drowning'."
His wife and stepson escaped and Mr Rowell crawled through the boot to drag him out of the car on to the riverbank.
Simon Machen, from the council, said the 40mph speed limit was "a precautionary measure... until we can fully investigate any road safety issues".
Members of the Fenland Road Safety Campaign are currently raising funds for a 250m (820ft) barrier to be installed at a cost of £45,000.
Officials from the council are meeting the group on 12 December to discuss their concerns.