North Bank: Bereaved father calls for barriers on 'notorious' road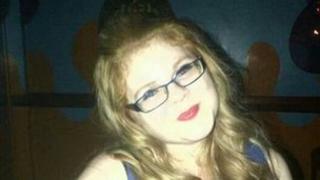 The father of an 18-year-old who died when her car plunged into a river has said he believes she would still be alive if barriers had been installed.
Hannah Yates died when she crashed on 3 November into the River Nene at North Bank in Whittlesey, Cambridgeshire.
Her father Phil Yates has joined campaigners asking for barriers.
The body of Keith Pettitt, 50, of Corby, was found in the river there on Monday and five other accidents have taken place there in the past week.
Peterborough City Council said it was looking into whether barriers are an option.
Following the discovery of Mr Pettitt's body on Monday, a temporary reduction in the speed limit from 60mph to 40mph was introduced on the half-mile (800m) stretch of road.
However, Mr Yates said: "We need barriers. There are many arguments about them but without barriers other lives will be lost.
"[With them], of course, Hannah would be alive today."
'Right solution'
He described North Bank as "notorious and very unforgiving", and said he would not have allowed his daughter to use the road, had he known she was doing so.
Cambridgeshire Police told him Hannah was not speeding at the time of the accident, Mr Yates said.
"Bless her heart, she lost control," he said.
Mr Yates has joined with groups including Fenland Road Safety Campaign to lobby for improved safety measures.
The group is currently raising funds to pay for a 250m (820ft) barrier to be installed at a cost of £45,000.
Simon Machen from the council, which maintains North Bank, said: "It is really important to look at what the evidence is around these latest accidents so we can put in place the right measures rather than potentially doing something that could make the situation simply worse.
"We will never know whether barriers would have prevented the recent tragic loss of life."
Ground testing was under way to see if barrier installation was possible, Mr Machen said.
"One of the problems you can create is vehicle deflection, whereby a vehicle hits a barrier and bounces off into traffic coming in the other direction.
"But I will work tirelessly to ensure we put the right solution in place as quickly as we can... whatever it costs," he added.
Mr Machen confirmed council officers were to meet with campaigners on 12 December.