Papworth heart and lung specialist hospital to move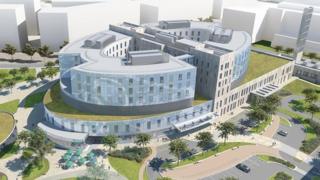 One of the UK's largest specialist heart and lung hospitals is to move to a new £165m building on the Cambridge Biomedical Campus.
The new NHS Papworth Hospital will be built close to Addenbrooke's Hospital in the south of the city.
The hospital will move from Papworth Everard, 13 miles (20km) west of Cambridge, in 2017.
Papworth Hospital treats more than 23,700 in-patients and day cases plus nearly 65,000 outpatients each year.
Papworth NHS Foundation Trust chief executive Stephen Bridge said the joint venture between Papworth and Cambridge University was dependent on the relocation of the hospital.
The move would create jobs and "attract leading clinicians and researchers to Cambridge," he said.
Prof Patrick Maxwell, executive director of Cambridge University Health Partners, said: "The Biomedical Campus is part of the largest biotech cluster outside the United States.
"Bringing the specialist cardiothoracic services provided by Papworth on to the main site is of key importance across all three aspects of our tripartite mission - patient care, education and research."
The project has passed its first hurdle with the Department of Health and now the project will go for consideration by HM Treasury.
Construction of the 310-bed hospital is expected to begin next August and should be complete by early 2017.
In 1979, the UK's first successful heart transplant was carried out at Papworth and the current hospital has 276 beds.