'Peterborough sex gang boss' denies rape of girl, 13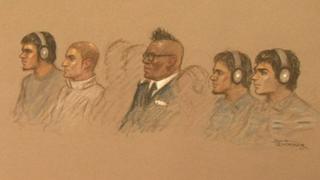 A man accused of being the "boss" of a group on trial for the sexual abuse of five girls has denied raping a 13-year-old with learning difficulties.
Zdeno Mirga, 18, known as Skinny, is among four men and four teenage boys on trial at the Old Bailey.
They deny a total of 57 counts of abuse, including rape. All five complainants are from Peterborough.
Asked whether he had raped one of the girls, Mr Mirga replied: "Absolutely not".
'Charismatic and controlling'
His defence barrister Jennifer Dempster said: "It has been said you've allowed others to have sex with her, you're the boss."
Mr Mirga said: "I've absolutely no idea what she is taking about."
The prosecution has described Mr Mirga as a "charismatic and controlling figure".
The 13-year-old girl alleges she was forced to have sex with Mr Mirga, and over the following months was made to have sex with other men and boys at a playground, in bushes and at parties, the court has heard.
The allegations emerged when she was taken into care.
The abuse against her and the other complainants is alleged to have taken place between April and December last year.
The accused are Mr Mirga; his brother Dusan, 20; Hassan Abdulla, 32; David Ziga, 19; two 17-year-old boys and two 14-year-old boys.
The trial continues.