Ian Jardine death: Widow awarded £100k compensation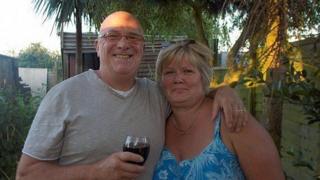 A woman has been awarded £100,000 in compensation for "shortcomings" by a hospital and paramedics which resulted in the death of her husband.
Ian Jardine, from Wisbech, Cambridgeshire died from a coronary thrombus at his home in 2009.
Despite complaining of severe chest pains, Mr Jardine, 58, was repeatedly misdiagnosed with muscle strain, said Sharon Jardine's solicitors.
King's Lynn's Queen Elizabeth Hospital expressed its "deep regret".
Mr Jardine experienced a sudden "crushing type pain in his chest together with some shortness of breath" on 12 June 2009, the solicitors added.
After returning home from work, he was taken by ambulance to the Queen Elizabeth Hospital in King's Lynn where he was advised the pain was musculoskeletal in origin.
Advised to consider the chest pain clinic if symptoms persisted he continued to have pain and discomfort in his chest and saw his GP on 15 June.
On 19 June Mr Jardine returned to his GP "anxious" and in "considerable pain", said the solicitors.
After returning home an ambulance was called again, but Mr Jardine decline the paramedics offer to take him to hospital. He died that evening.
Missed opportunities
In April, solicitors acting for the Queen Elizabeth Hospital King's Lynn NHS Foundation Trust and the East Midlands Ambulance Services NHS Trust admitted that had Mr Jardine been treated correctly he would have survived.
Jeanette Aspinall of Fletchers Solicitors, for Mrs Jardine, said: "A number of opportunities were missed for Mr Jardine to be correctly diagnosed.
"Given the facts of the case it should have been clear, even to a lay person, that something was seriously wrong."
A spokesperson for East Midlands Ambulance Service said "We accept that Mr Jardine's medical condition was not diagnosed properly and, therefore, accepted liability for our part in that.
"We would like to offer our sincere apologies to his family and friends for their very sad loss."
A spokesman for the hospital said: "We wish to apologise to Mrs Jardine and her family and to extend our deep regret for the shortcomings in her husband's care."