Cambridge University drunk students 'inundate' hospital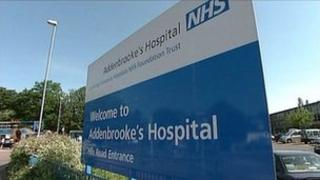 A hospital has complained to Cambridge University after being "inundated" with drunk students in fancy dress.
An Addenbrooke's Hospital consultant wrote to the university after staff spent "several hours" dealing with about 10 students on Tuesday.
The students "disrupted" the department by "behaving irresponsibly", he said.
A university spokesman said: "The university deplores this type of unacceptable behaviour that's been reported, and is investigating."
Dr Adrian Boyle, emergency medicine consultant at the hospital, said: "We can confirm that we have written to a Cambridge college to raise concerns about a small number of students who were behaving irresponsibly and causing operational difficulty in the emergency department."
'Injuries from fights'
The letter said a "selection of drunken students in fancy dress" were admitted on "an already busy night".
It described them as "disruptive and rude" and went on to say staff frequently had to ask them to stop wandering around the department, and in and out of cubicles where their friends were being treated.
Staff treated them for a range of conditions including "facial injuries... from fights".
The letter also said several were semi-conscious, describing them as being at levels eight to nine on the Glasgow Coma scale (GCS) - a method of assessing a patient's neurological state based on their ability to open their eyes, move and speak.
A patient is given a score in each of these three categories, with a minimum number of three and a maximum of 15.
The more severe the injury, the lower the responses from the injured person, and the lower the score.
It is believed the students had been attending a sports event or party on Tuesday.