Cambridgeshire road gritting savings 'bad for economy', AA says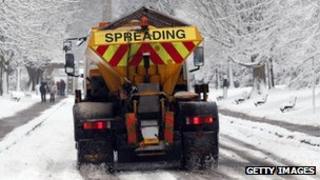 Reducing winter road gritting to help meet Cambridgeshire County Council's five-year £150m saving plan could put motorists and the economy at risk, the Automobile Association (AA) has said.
Council leader Martin Curtis said the "unaffordable" annual £2m gritting cost needed to be reviewed.
An opposition spokesman described the plan as "appalling" and the gritting service as "vital to everyone".
Saving on gritting is one of a raft of measures in the council's draft budget.
Conservative Mr Curtis said he did not think reducing spending on winter road maintenance would be "dangerous", but admitted it was "not a perfect situation".
'Lives at risk'
Paul Watters, head of roads policy at the AA, described the proposal as "not good news", and said it could turn out to be a "false economy".
"We argue that a good winter maintenance plan is important not just for safety, but also for the economy," he said.
"Cambridgeshire is a very vibrant county. Reducing spending that keeps its roads clear could be counter-productive."
Mick Napier, who lobbies for safety improvements on roads in the Fens, said: "I can't believe the council would even contemplate putting lives at risk on these roads.
"There will be more accidents, casualties are going to go up and it will cost people's lives."
As well as reviewing its gritting capacity, the council's draft budget includes a 1.99% council tax increase, a proposal to close the Cromwell Museum in Huntingdon and reducing funding for children's centres by 22%.
Mr Curtis said: "We need to be realistic and say that we can't afford to have gold-plated services anymore.
"We'll always keep looking at how we can make savings so they don't impact the front line, but the opportunities for that just get less and less. The reality is, people will probably see the impact."
Maurice Leeke, leader of the Liberal Democrat group, criticised the council for funding "grandiose schemes".
"We should pay more attention to getting the basics right," he said. "We've got to look at whether we can reduce the impact on the front line and whether there are some luxuries elsewhere that we really should be looking at."