Telegraph pole left in middle of Cambridgeshire cycle path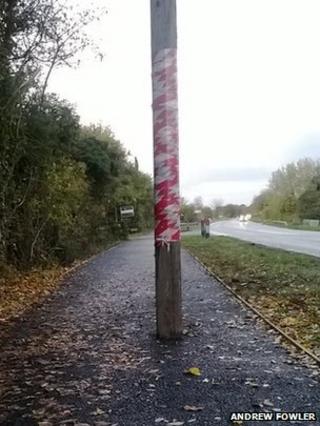 Cyclists have been urged to "be aware of hazards and obstructions" after a man on a bike hit a telegraph pole left in the middle of a new cycle path.
Andrew Fowler, 52, of Shepreth in Cambridgeshire, came off his bike on Friday morning on a newly-widened path near Foxton.
He said he used the path because the road was dangerous. "Instead, I hit a telegraph pole," he said.
The county council said the pole had warning tape on it and would be moved.
Work on the £300,000 scheme to widen and resurface a 1,300 yard (1.2km) dedicated cycle way along the A10 between Frog End in Shepreth and Foxton Bottom began earlier this month.
'Bit of tape'
Mr Fowler, the manager of a cleaning company, fell foul of the pole while cycling to work at about 00:15 GMT on Friday, when he had been "pretty much blinded by on-coming headlights".
"The pole has always been there, but it was on the grass verge, and now the path has been widened it's right in the middle of it," he said.
"My pride hurt more than the bump and bruise I ended up with."
Mr Fowler said council workers had put "a bit of reflective tape" on the pole, which he had not seen.
More had been added since his accident he said, as well as two cones.
A county council spokesperson said: "The pole was an existing one which will be moved to a location within the grass verge before the final surface of the cycle path is laid.
"We are working with the utility company responsible for it to organise its relocation as soon as possible."
He urged cyclists to be aware of any potential hazards when using pathways.
Mr Fowler, however, maintained the telegraph pole should have been moved before the path was widened.
"There must be something wrong with the planning process that allowed this to happen," he said.
"It needs a proper barrier around it, because it's going to be there for quite a while before BT can move it."