Peterborough hospital site developed for 350 new homes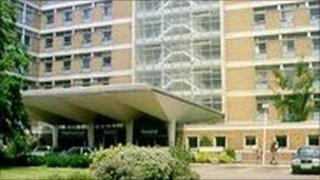 An NHS trust with debts of £40m has sold a former hospital site for £7.44m.
The former Peterborough District Hospital will be redeveloped into up to 350 new homes and a primary school.
Peterborough and Stamford Hospitals NHS Foundation Trust sold the site to Lands Improvement Holdings (LIH), which specialises in regeneration.
Peterborough MP Stewart Jackson said the sale was good news and would boost the trust's "parlous finances".
"This money is needed to protect and enhance local health services," said Mr Jackson.
"It's been a long and tortuous process lasting three years especially given the trust's parlous finances.
"We now need to get on with developing great quality housing on this key site in order to complement the city's wider regeneration process."
Public to comment
The trust recently received a £40m bailout from the government to meet its commitments on the new City Hospital.
Cambridgeshire and Peterborough Foundation Trust, which owns a building on the site, will receive £311,000.
LIH has pledged to make space for a new primary school and historic buildings will be retained.
Members of the public will be able to comment on the proposed redevelopment when detailed plans are produced.
Dr Peter Reading, the trust's interim chief executive, said: "We have taken expert advice to ensure we are receiving the best price for the land at current market value."
Peterborough City Council leader Marco Cereste said the development would "create many new family homes".
"Important historic buildings including The Gables and the Memorial Wing will also be preserved," he added.