AstraZeneca staff to make Cambridge move before new HQ is built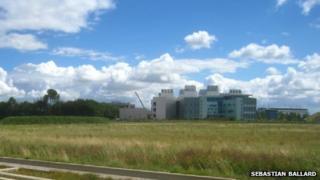 Up to 400 AstraZeneca scientists are to move to Cambridge two years before its new £330m global headquarters is ready.
The company's research and development site is to open on the Cambridge Biomedical Campus in 2016 and will employ 2,000 people.
The pharmaceutical giant said the early relocations would "help cement relationships" with the city's research and academic organisations.
The staff will move to three temporary locations in Cambridge next year.
Mene Pangalos, AstraZeneca's executive vice president of innovative medicines and early development, said moving the scientists "will help cement the important relationships we are building with leading research, academic and healthcare organisations based in and around the city".
The employees will be based across three temporary sites at the Melbourn Science Park, the Cambridge Science Park and Granta Park, which is currently home to AstraZeneca's biologics research and development arm, MedImmune.
The decision to move to the new research and development site has seen the company announce an intention to cease such work at Alderley Park in Cheshire and close its London HQ.
The majority of posts will move to Cambridge, but 700 jobs are being axed.
The new site will become AstraZeneca's largest centre for cancer research and will also focus on cardiovascular, metabolic, respiratory, inflammation and autoimmune disease research.
It will be built on a new 11 acre (4.5 hectare) site near Addenbrooke's Hospital to the south of Cambridge.