Cambridge academics condemn 'police surveillance'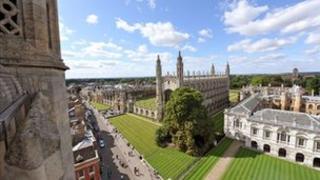 Academics have called on Cambridge University's vice chancellor to condemn alleged police surveillance on the activities of university students.
Covertly-recorded film reveals an officer attempting to persuade an activist to become an informant for money, the Guardian reported.
The letter has been signed by 130 academics.
The university said the vice chancellor had told the police "the right to peaceful protest" should be protected.
In the Guardian report, the officer wanted the activist to name students attending protests and list vehicles they travelled in.
The letter, posted on the Cambridge Defend Education website, asks the vice-chancellor, Professor Sir Leszek Borysiewicz, to "make it clear that the university is in no way involved in supporting such practices".
"The very threat of such unjustifiable surveillance will have a chilling effect on students involved in or hoping to join campaigning organisations," the letter said.
It asked Professor Sir Leszek to "issue an official statement condemning such covert practices".
A university spokesman said: "The university champions academic freedom and debate.
"The vice chancellor also notes the concerns of the letter's signatories that the right to peaceful protest and political and social campaigning be preserved and protected.
"He has already made these points to the police."
Cambridgeshire's chief constable Simon Parr defended using such surveillance when "in line with the law".