Cambridge police chief defends student surveillance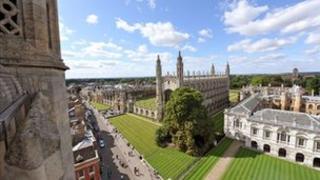 Claims that police officers have been spying on the political activities of university students has been defended by Cambridgeshire's chief constable.
Covertly-recorded film reveals an officer attempting to persuade an activist to become an informant for money, the Guardian reported.
The university students' union said it was "absurd" to target its members.
However, Chief Constable Simon Parr said surveillance work "in line with the law" helps keep the public safe.
'Keep public safe'
Speaking for the first time since concerns were raised, Mr Parr told the BBC: "We are gathering intelligence from a number of sources as every force does, on things we believe may be of interest in keeping the public safe."
He said he would not go into more details, but added: "The only way we know if there are things we need to be interested in is by trying to find out."
The Guardian reported the police officer wanted the activist to name students attending protests and list vehicles they travelled in.
The newspaper reported the unnamed officer wanted the activist - who wished to remain anonymous - to also identify leaders of protests and to search on Facebook for the latest information about protests being planned.
Cambridge University declined to comment on the Guardian article, saying it is "a matter for the police".
But Cambridge University Students' Union (CUSU) said it was alarmed that its members were under police surveillance.
The union said in a statement: "CUSU has always constructively engaged with the police when planning or supporting protests and demonstrations.
"Tactics such as these are not only intrusive, they also waste time targeting groups which are involved in making important and positive change in our society."