Cheeky Cambridge students in best bottoms copyright row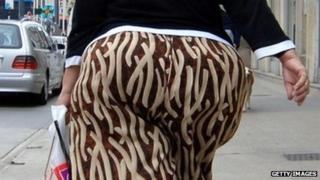 Students running a "best bottom" competition at Cambridge University have been forced to change its title after infringing copyright laws.
Online magazine The Tab was running a Rear of the Year vote featuring photographs of 10 students.
Organisers of the national trademarked Rear of the Year competition described The Tab vote as a "tasteless stunt" and demanded it change the title.
The Tab said it had been renamed "Best Bums... to avoid being sued".
The official competition, which first ran in 1976, asks members of the public to nominate "the most stylish and fashionable celebrity rears" for the annual title.
'Wit and creativity'
Its first winner was actress Barbara Windsor and last year the men's title was awarded to singer and actor John Barrowman.
The Tab decided to pit five female and five male students against each other for the magazine's own version of the competition.
After being contacted by organisers of the national vote, editors said on the website: "The company... told us to stop using their registered trademark."
Tony Edwards, organiser of the official Rear of the Year, said: "Publishers of the student website [have] been instructed to delete all reference to the protected title and [have] unreservedly agreed to comply.
"It is to be regretted that the people behind this somewhat tasteless student stunt haven't the wit and creativity to originate their own promotional ideas without resorting to the unauthorised use of long-established and protected properties.
"On a commercial level, the crude, tasteless involvement of a long-established brand could prove to be a costly error."
Tab editors said: "We would like to apologise to Mr Edwards for accidentally abusing his trademark."
Cambridge University declined to comment.