Peterborough children's services changes to be discussed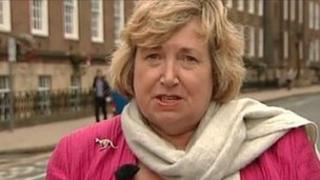 Plans to restructure 15 children's centres in Peterborough are to be debated by the city's cabinet.
The council believes it can cut budgets by £1.2m by redirecting finance to four children's advice "super hubs" in deprived areas of the city.
In addition, it plans three outreach centres to cover the rest of the city.
Children's centres offer advice on such issues as upbringing, nutrition and health. These services will continue through the hubs and outreach services.
Cabinet member for children's services Sheila Scott said parents' needs had changed significantly since the centres were established with government funding more than a decade ago.
Wide consultation
"More parents now have to work and there is more need for nursery places and childminding," she said.
"The city council has attracted about £10m government funding to establish these new services.
"We decided more than a year ago to review the children's centres and the provision of services to parents.
"Our ideas are to be presented to cabinet on Monday 18 November and, if accepted, will go out for consultation.
"We aim to talk to as many parents, groups, parish councils and other organisations as possible."
If the ideas are rejected a rethink will be needed about the shape of children's services in the city but if good suggestions are made then they could be included, Ms Scott said.