Kingsmill bread lorry sandwiched under Primark canopy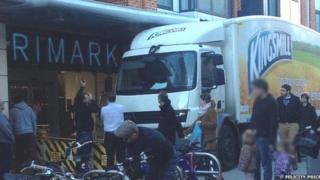 A bread lorry became wedged in the entrance to a Cambridge shop after the driver apparently took a wrong turn.
The Kingsmill lorry became stuck under the canopy of the Primark store after turning into Burleigh Street, a pedestrian street.
Witnesses said the vehicle got wedged before 09:00 GMT and got away at about 15:00 after its tyres were deflated.
It is not known why the driver chose that route. No one from the bread company was available to comment.
Felicity Price, who photographed the lorry while out shopping, said: "We noticed it there when we went into Primark and didn't really think anything.
"When we came out, it was still there and that's when we realised it wasn't just parked, it was completely stuck.
"People were saying the driver was trying to get to Sainsbury's, but that certainly isn't the right way to go about it."
The supermarket is about two miles (3km) away from Burleigh Street.
Staff at Primark declined to comment.