Safety barriers 'needed' at Whittlesey death scene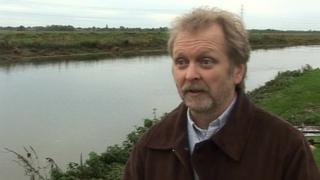 Road safety campaigners have called for safety barriers to be installed urgently on a Cambridgeshire road after another fatal accident there.
Hannah Yates, 18, died after her car left North Bank at Whittlesey, near Peterborough, and plunged into the River Nene on 3 November.
Fenland Road Safety Campaign said barriers were urgently needed to prevent further deaths.
Peterborough City Council said it was arranging to meet the group.
Fenland Road Safety Campaign has negotiated an agreement for a 250m (820ft) length of barrier to be installed at a cost of £45,000.
The group must raise £15,000 towards the cost of the barriers, with £15,000 to be sought from corporate sponsors and the remaining third from Peterborough City Council, which has responsibility for the road.
Jurij Grisko, 50, died following a crash on the same stretch of road in September 2012.
Graham Chappell, campaign organiser, said: "We need safety barriers on the bend where the latest tragic accident has happened."
'He's done enough'
He said the group had already raised £5,000, but feared more deaths unless the work was completed soon.
"If we stick to that particular plan, I'm not really sure how long it will take," he said.
Martin Curtis, Conservative leader of Cambridgeshire County Council and member for Whittlesey North, said: "Graham's done his work. He's done enough.
"Whittlesey Town Council is prepared to support him and it's now time for Peterborough City Council to come and do their bit."
Simon Machen, director of growth and regeneration at the city council, said: "We would like to express our sincere condolences to Hannah Yates's family.
"Myself and Councillor Matthew Dalton would like to meet with our colleagues at Cambridgeshire County Council and the Fenland Road Safety Campaign to discuss and review safety issues."