Alleged victim of 'Peterborough sex gang' lied about past rape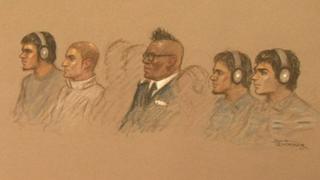 A 14-year-old alleged victim of a gang of four men and four teenage boys accused of sexually abusing five girls has admitted lying about being raped.
The case came to light when one of the alleged victims was taken into care and told her social worker she had been abused, jurors at the Old Bailey heard.
The gang deny a total of 57 counts of abuse, including rape.
Girl A told the court she had once lied about being raped in Peterborough to get a boy into trouble.
All the complainants come from Peterborough.
The abuse is alleged to have taken place between April and December last year.
The accused are Zdeno Mirga, 18; his brother Dusan, 20; Hassan Abdulla, 32; David Ziga, 19; two 17-year-old boys and two 14-year-old boys.
Under cross-examination girl A said she made up the rape accusation because she wanted to get a boy into trouble for a friend.
She also told the court she had lied in the past to police and other boys that she was 16 years old.
The girl is expected to continue giving evidence on Thursday.