Peterborough solar farm: Archaeologists unearth Roman finds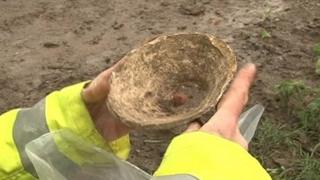 Roman pottery, evidence of a Roman settlement and "possibly Saxon" artefacts have been found at a proposed solar farm site near Peterborough.
The land at Newborough is being excavated ahead of a city council decision about the solar farm plan.
Richard O'Neill, from Wessex Archaeology, described the finds as "locally and regionally significant".
Work is expected to continue for three weeks, after which the council will consider the archaeologists' report.
Plans for the solar energy farm at three council-owned sites at Newborough, Morris Fen and America Farm were put on hold after English Heritage stepped in suggesting the area could be "nationally important".
'Not a Flag Fen'
Mr O'Neill described the finds at Newborough as "the most interesting".
"We've got a number of fragments of pottery dating from between the 1st and 3rd Centuries AD, and one potential Romano-British settlement.
"It's quite a small farmstead with perhaps a number of roundhouses," he said.
"We've also identified a couple of sites that may be late prehistoric, possibly settlements or funerary sites which we still need to look at."
Mr O'Neill confirmed experts were examining artefacts believed to date from the Saxon era.
Archaeologist Dr Francis Pryor discovered the nearby Bronze Age settlement of Flag Fen in 1982 which comprises thousands of timbers connecting Whittlesey Island with Peterborough and was used for ritual and worship for 1,000 years.
He believes the three sites could be historically significant.
"The edges of the Fen are where people have stayed and settled in prehistory, and there's absolutely no reason why there shouldn't be another Flag Fen out there, or a site that we can't imagine," he said.
Mr O'Neill said the discoveries made so far were "not a Flag Fen, but of local and regional significance".
Archaeologists are expected to continue excavating for three weeks, although Mr O'Neill said work would continue beyond that if evidence of older settlements was found.
Nick Harding, from the City Council's planning services department, said: "We will discuss the results of the survey with English Heritage and that will help us decide what to do next.
"The relative quality and the rarity of the finds... will determine how best to deal with them, whether that involves keeping developments clear of those sensitive areas or whether once those sites are recorded for posterity they can be covered over and development allowed to continue.
"Clearly we are not at a stage to make that decision yet."