Commission's Picturehouse ruling labelled 'crude decision'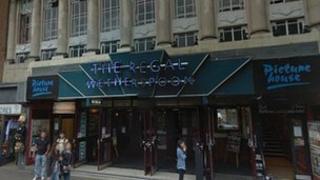 A ruling that Cineworld should sell one of its two cinemas in Cambridge has been branded "culturally insensitive" by a British film director.
Beeban Kidron said the Competition Commission's "crude decision" showed a lack of understanding of the differences between the venues.
Campaigners fear the Arts Picturehouse could now be forced to close.
But the Commission said this was "a quite unjustified anxiety" and it was confident a new owner could be found.
'There are buyers'
Baroness Kidron, an independent peer who directed the second Bridget Jones film, said: "I think a lot of us feel that it was just a very crude decision... a culturally insensitive decision.
"If you look at the ruling, it's a lot to do with ticket price, with a downgrading of the value of their programming - and not understanding that an arts screen is a very, very different thing from a cinema screen."
She added that "outside London, you are likely to get one third of the amount of spend per head on art" and the Picturehouse chain is "where people can properly access things out of the ordinary".
Alistair Smith, deputy chairman of the Competition Commission, said: "People are anxious about cinemas closing and that's a quite unjustified anxiety.
"Baroness Kidron doesn't seem to realise the impact of our ruling is not that cinemas are going to close down - it's that cinemas have to be sold to a different owner."
He added that the Commission was "confident that there are buyers in the cinema market", although "we didn't get evidence down to that level about whether subtitled films are shown in one cinema chain rather than another".
Cineworld bought the Picturehouse chain last December in a £47.3m deal.
The Competition Commission investigated the acquisition and said the chain must sell venues in Aberdeen, Bury St Edmunds and Cambridge because it might restrict choice and increase prices for cinema-goers.
Cineworld has "reluctantly" agreed to sell its Aberdeen and Bury St Edmunds cinemas but has yet to decide whether to sell the Arts Picturehouse in Cambridge.