Peterborough child sex gang 'organised abuse of girls'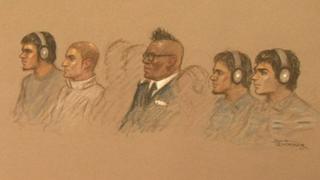 A gang of four men and four teenage boys "organised and controlled" the sexual abuse of five girls aged between 12 and 13, a court has been told.
The case came to light when one of the alleged victims was taken into care and told her social worker she had been abused, jurors at the Old Bailey heard.
She and the other four complainants come from Peterborough.
The gang, who all lived at addresses in the city, deny a total of 57 counts of abuse, including rape.
Zdeno Mirga, 18, his brother Dusan, 20; Hassan Abdulla, 32; David Ziga, 19; two 17-year-old boys and two 14-year-old boys are on trial.
The alleged abuse happened between April and December last year.
'Shared around'
One of the girls, a 13-year-old known as "Victim A", said she was raped in a park in the town and made to have sex with several other men in the following months.
The court was told the girl had severe learning difficulties.
She described Zdeno Mirga, known as "Skinny", as the gang's boss, prosecutor Angela Rafferty said.
"He encouraged her, often very forcefully indeed, to give other boys and men... sex.
"He did this using the power he had over her at the time, or threatened her and sometimes he used violence against her.
"Skinny took her to parties where she was shared around sexually," Ms Rafferty added.
The girl told police that Zdeno Mirga "shared" her because he wanted money to buy cannabis and vodka, the court heard.
Ms Rafferty said some of the defendants were "more heavily involved than others".
"Some organised and controlled the sexual activity, some took a spur-of-the-moment decision to become involved," she said.
Jurors were warned they would hear "very graphic descriptions" of what allegedly happened to the girls, and they would have to put their emotions and sympathies to one side during the trial.
The case continues.