Peterborough Hindu community helps after soup kitchen theft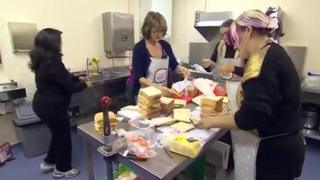 A Hindu temple has stepped in to help a homeless charity next door that was hit by thieves twice in one night.
Food and three induction hobs were taken from the Peterborough Soup Kitchen in Rock Road on Tuesday.
Members of the Bharat Hindu Samaj temple offered to cook food for the charity in the temple's kitchen.
The charity's Ian Davies said the "wonderful gesture" would mean they were supplying food which was "a bit different to corned beef sandwiches".
'Despicable and malicious'
Rupa Soni, a member of the temple, helped volunteers prepare the food on Thursday evening.
"We feel very bad because what has happened is not right," she said.
"It's awful for someone to steal from the soup kitchen. We are one community."
The charity, which relies on donations, is staffed by 160 volunteers and feeds up to 400 people each week.
Mr Davies said: "Thieves cleared the shelves of our coffee, tinned tuna, corned beef, a mobile phone and even a frozen turkey.
"We also had three new induction hobs, which had been donated. One was still in its wrapper.
"They took those, leaving us with just the one, so we were able to buy some new provisions and at least cook something for the 40 people who visited our van on Wednesday night."
He said the people who took the items "in this despicable manner did it with real malice".
"It's like taking candy from a baby," he said.
Secretary of the Bharat Hindu Samaj, Kishor Ladwa, said they would continue to support the charity.
"On Monday we will hold our new year gathering, and will ask our members to help out with donations, because they have always been very good neighbours."
Volunteers at the charity first noticed their handbags were missing on Tuesday at about 21:30 GMT. A staff member did not realise her keys had also gone until the next morning when the second theft was discovered.
A Cambridgeshire Police spokesman said the soup kitchen "provides a vital service to those in need in the city".
"To steal from such an organisation is a truly low act and we would urge anyone with any information about who is responsible to call police."