Brandon Lewis condemns Cambridgeshire fire chief pay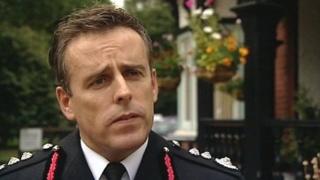 A decision to re-employ a fire chief a month after he retired showed a "lack of openness", the fire minister said.
Graham Stagg, who left Cambridgeshire Fire Service in September, returned on his old salary of about £155,000.
Brandon Lewis said Mr Stagg had been the fifth highest paid fire chief in the country and it was "not clear" why he was being paid so much for running the 25th biggest service.
The authority said staff pay was "fully justified", but it may change in time.
This month the fire authority said it agreed 18 months ago to allow the chief fire officer, who was believed to be on a total salary with bonuses and pension of more than £200,000, to continue working after his retirement.
'Public concern'
It drew criticism from the Fire Brigades Union (FBU), which said it created an impression of a "cosy relationship" at the top at a time when firefighters were protesting over working conditions and pensions.
Mr Lewis's letter to the fire authority chairman, Sir Peter Brown, said there was "very obvious public concern" about the re-hiring, adding it was not clear if the post was advertised or made available for other candidates to apply.
Comparing 2011 salary levels, Mr Lewis, Conservative, said the chief fire officer's basic pay of £155,106 was the fifth highest in the country - well above the minimum level of £94,638.
He said it was "not clear" why that was the case, adding that three other senior management members had also been earning between £108,000 to £123,950 a year.
Sir Peter said: "We are fully justified in our level of pay for staff, however, as the needs of the business change, so may the pay.
"Clearly, things like pay will be reviewed in light of how the business will need to be run in the future."
Mr Stagg has been unavailable for comment.
Earlier this month he denied on his internal staff blog that he was "feathering his nest", saying he was on a three-year fixed-term contract and was no longer earning pension contributions.