A14 in Cambridgeshire cleared after fire and crash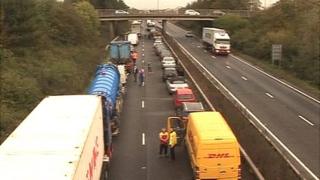 Two sections of the Cambridgeshire A14 where a lorry caught fire and another jack-knifed have been cleared.
The blaze forced the westbound carriageway to shut between junction 21, where it joins the A1M at Brampton, and junction 20 at Ellington.
The crash, involving several vehicles, caused severe congestion and shut the eastbound side at Cambridge for several hours.
One person was treated for a minor neck injury.
At one point drivers faced a 30-mile diversion up to Peterborough on the A1M and back down the A605 to the A14 at Thrapston to avoid the fire.