Sacrewell Farm mill project gets £1.4m funding boost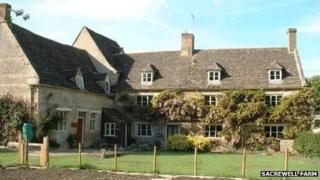 A watermill in Cambridgeshire is set to be restored after it was awarded £1.4m from the Heritage Lottery Fund (HLF).
The Grade II-listed mill, mill house, bakery and pond date from the 18th Century and form part of Sacrewell Farm and Country Centre near Peterborough.
The trust which runs it hopes to turn it into a "centre of excellence for milling" once work is complete.
A spokesman for the HLF said the funds would help to preserve "a precious building".
The funding makes up the majority of the £1.7m needed to fully restore the buildings, owners the William Scott Abbott Trust said.
'Lifelong skills'
The plans include installing a hydroelectric turbine to the mill which will feed electricity back into the National Grid, contributing to the running costs.
The trust plans to recruit a project officer, an education officer and about 75 volunteers to help with the restoration work early next year.
Centre manager Mike Rooney said: "The recruitment of volunteers is essential to the success of this project.
"They will be trained in a range of areas and interests including traditional restoration and millwright skills, tour guiding, collections care, research and interpretation, community archiving, re-enactment and living history, tourism, marketing and event management."
The trust also hopes to provide apprenticeships in building and milling during the restoration.
Robyn Llewellyn, head of the HLF for the East of England, said: "People of all ages will have the opportunity to learn about the history on their doorstep in fun, engaging ways while a precious building is restored and training opportunities are created giving people lifelong skills in the process."