Tour de France Cambridgeshire and Essex routes revealed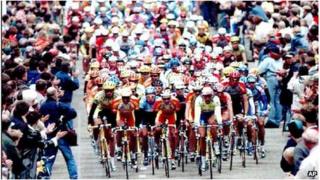 The historic colleges of Cambridge, the "cycle capital of the UK", will form the backdrop for riders on the third stage of the 2014 Tour de France next year, organisers have revealed.
The 7 July stage begins on Gonville Place and takes riders past King's College and villages south of the city.
The race enters Essex near Saffron Walden taking in Chelmsford and Epping Forest before heading to London.
The UK part of the race starts in Leeds on 5 July and ends in London on 7 July.
After starting out near Parker's Piece in the centre of Cambridge, the peloton will ride through Regent Street and Sidney Street and past St Johns, Trinity and King's colleges before leaving Cambridge via Trumpington Road.
'British icons'
Riders will then travel along the A1301 through a number of villages including Trumpington, Great Shelford and Hinxton.
Councillor Tim Bick, leader of Cambridge City Council, said: "It's with real pride that the cycling capital of the UK will welcome the world's elite sporting cyclists.
"The route will enable local people to see the peloton - including our British icons - in both intimate and grand settings as it snakes through the city."
Once in Essex, the riders will take in parts of Uttlesford, Braintree, Chelmsford and Epping Forest.
Councillor Ann Naylor, from Essex County Council, said: "We're delighted to be able to say 'bienvenue' from Essex to a global audience of up to 3.5 billion people next July. "
Councils will release details of road closures and diversions nearer the time.