Royal christening: 'Union Jack' pensioner 'bags prime spot'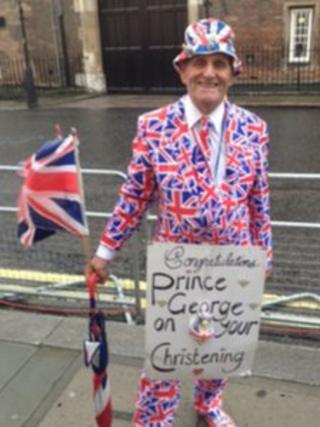 A pensioner who spent 13 days camped in London waiting for the birth of the royal baby has been back in the capital for the christening.
"Mad keen" Royal family fan Terry Hutt, 78, from Whaddon, Cambridgeshire, has become known as 'The Union Jack Man'.
He arrived outside St James's Palace at about 12:00 BST "to bag a prime spot" for Prince George's baptism on Wednesday afternoon.
"There are eight of us from Newcastle, London - and me," he said.
"I'd have got here a bit earlier, but the trains were running late."
Patriotic rubber duck
The small group of early arrivals outside St James's Palace all know each other, as they are regular Royal watchers, he added.
"We're well kitted out, sitting in our deckchairs in our waterproofs.
"And I've got a big canvas sheet, which should cover about twelve people later when it gets cold," he said.
Mr Hutt said he had brought a red, white and blue rubber duck with him which he hoped to give to the Royal couple for Prince George's bath time.
"It's in a nice bag to keep it clean for him," he added.
The baptism of Prince George took place in the Chapel Royal at St James's Palace.