Addenbrooke's clinic for rare digestive cancers to open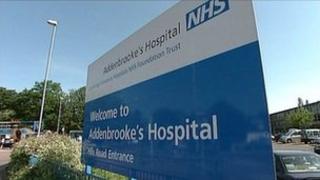 Cancer experts from across the UK are to open a new clinic to investigate rare cancers of the digestive system.
The clinic, expected to open in early 2014, will operate four times a year at Addenbrooke's Hospital in Cambridge.
Believed to be the first of its type in the UK, it will treat gastro intestinal stromal tumours (gists), which affect about 15 people in every million.
Lead consultant Dr Ramesh Bulusu said it would "bring expertise to one national centre and improve knowledge".
An even rarer form of the cancer in children, seen in about 100 cases each year in the UK, will also be tackled.
The disease typically starts in the stomach, where several tumours can appear at the same time.
Dr Bulusu, an oncology consultant at Cambridge University Hospitals, said: "Oncologists in other parts of the country have not been able to gain enough experience because they only see one or two patients a year.
"Creating a national clinic and a network of cancer specialists will improve the knowledge about these rare cancers."