Cambridge City FC Sawston stadium plans submitted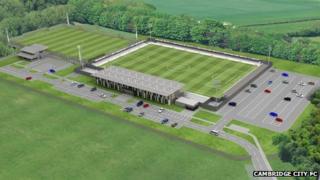 A "homeless" football club could have a new stadium in Cambridgeshire if plans are approved by a council.
Cambridge City Football Club has submitted plans for a 3,000-capacity ground near Sawston to South Cambridgeshire District Council.
Its initial proposals were not adopted by the council after public concerns about the impact on traffic.
The team, which has been sharing a ground since May, said the revised plan addressed concerns.
The Southern League Premier Division club's Milton Road ground in Cambridge was sold to developers in 2006.
'Community hub'
Its lease ran out earlier this year and since then it was been sharing with nearby team Histon FC.
The new plans include a stadium with a floodlit grass pitch and a floodlit 3G pitch for training with its own stand and parking for cars, coaches and bicycles.
Plans also include a recreation ground with road access, parking and floodlights, which the club said would be gifted to Sawston Parish Council.
A public consultation held in the spring resulted in a number of concerns about the impact of the stadium, which is to be built on greenbelt land.
However, the club said the Dales Manor Business Park site was "formerly used as a waste tip for over 15 years and since 1993 has been left disused, and has become overgrown".
Club press officer Andrew Dunn, said: "People were concerned about numbers, but we have to have a 3,000-capacity site to comply with the Football Association's requirements to play in the Conference South Division.
"The reality is that the actual attendance figures will be far lower, with recent figures suggesting approximately 338 fans in 150 cars attend each match".
Kevin Satchell, the club's chairman, added: "This is not just for the football club, as we are also offering a new community hub for Sawston and the surrounding area."